SWAC PLANTS AROUND THE WORLD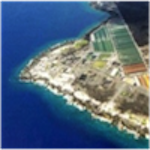 Nassau, Bahamas
Ocean Thermal Energy Corporation (OTE) has finalized the design and project development efforts for a large SWAC system for the new Baha Mar resort in The Bahamas. We have signed a 20-year contract (known as an Energy Service Agreement "ESA") to supply seawater cooling to five hotels and a 100,000-square foot casino. OTE has already installed all of the SWAC pipework on the land side of the resort.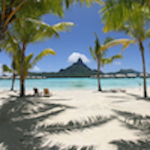 Bora Bora, French Polynesia
The InterContinental Resorts and Thalassa-Spa on the island of Bora Bora uses a SWAC system in conjunction with a deepwater spa. Learn more here.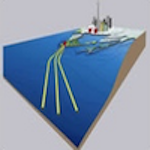 Toronto, Canada
The Enwave Energy Corporation developed a Lake Water Air Conditioning (LWAC) system in Lake Ontario in 2004. An integrated district cooling system, it covers Toronto's financial district and has a cooling power of 59,000t as well as the capacity to cool 3,200,000 m2 of office space. It is currently the largest system in North America. Learn more here.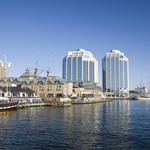 Halifax, Canada
The world's first SWAC system has been operational since 1986 at Purdy's Wharf, and cools a 700,000 square foot office complex. An additional system at Alderney 5 became operational in February 2010, cooling a 330,000 square foot office building. Reports show that the two systems save $400,000 annually when compared to traditional air conditioning systems.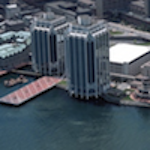 Hong Kong, China
Closed Loop SWAC systems are operational at both the Excelsior Hotel and the HSBC office tower in Hong Kong.
Amsterdam, The Netherlands
In the spring of 2006, a district cooling system was completed to cool the Zuidas District in Amsterdam. The system draws from the nearby lake, Nieuwe Meer, and has the capacity to cool a load of 17,000t. In 2009, a second system was built in the Zuidoost district, which is capable of cooling a load of 18,000t. Both systems are operated by Nuon (a subsidiary of Vattenfall), one of Europe's largest suppliers of heat and electricity.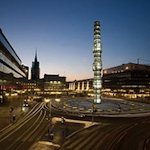 Stockholm, Sweden
Stockholm Energy constructed an 80,000t SWAC system in 1995, and it was the world's largest seawater cooling system at that time. At night, when the demand for cooling is lower, the facility stores excess cold water for later use when demand increases.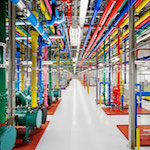 Hamina, Finland:
In September 2011, Google opened a data center in Finland that uses seawater from the ocean to cool the facility. The data center serves users in Europe and around the world. Using seawater cooling in this manner is a world first.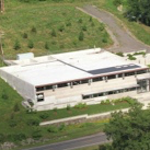 New York, United States
Since 2001, Cornell University's lake source cooling system has used Lake Cayuga as its heat sink to operate the central chilled water system for its campus and the Ithaca City School District. The cost of development was approximately $60 million with a financial payback of approximately 15 years. It cools a 14,500t load.