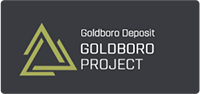 Property Description and Location and Access
The Goldboro Property (the Property) is situated on the eastern shore of Nova Scotia, Canada. The Property's central point is approximately located at 45° 12' 2.6" N latitude and 61° 39' 2.0" W longitude. The Property consists of 37 contiguous claims, registered through the Company's wholly-owned subsidiary Orex Exploration Inc., covering a total area of approximately 592 hectares held under Exploration Licence No. 05888. This title is in its 42nd year of issue and is renewed every two years, with the next renewal date on November 29, 2021.
The Property is located approximately 175 km northeast of the city of Halifax, 60 km southeast of the town of Antigonish, and 1.6 km north of the village of Goldboro, on the eastern shore of Isaac's Harbour, in Guysborough County, Nova Scotia, Canada. The elevation is nominally 70 m above sea level.
Geological Setting and Mineralization and Deposit Types
The Project is located within the Appalachian Orogen and is underlain by the rocks of the Cambrian to Ordovician aged Meguma Supergroup. These include sedimentary rocks of the Goldenville Formation and overlying, younger Halifax Formation. A minimum 1.5 km thick stratigraphic section of the Goldenville Formation is centred on the Deposit and regional upright anticline, with Halifax Formation rocks located 1.6 km to the south.
The Deposit is comprised of three domains known as the West Goldbrook (WG), Boston Richardson (BR), and East Goldbrook (EG) Gold Systems. The WG Gold System is separated from the BR Gold System by a north trending, near vertical fault with tens of metres of apparent offset. The EG Gold System is separated from the BR Gold System by a thick greywacke sequence or marker unit.
At the Deposit, the Goldenville Formation consists of alternating greywacke and argillite beds with an approximate true thickness of 950 m. The base of the stratigraphic sequence consists of roughly 325 m of alternating greywacke and argillite, with varying proportions of both rock types, ranging in thickness from less than 1 m up to 10 m. This is overlain by the Marker Horizon, which consists of a 40 m to 50 m greywacke bed that is commonly intersected during drilling and in underground workings. Above the Marker Horizon approximately 560 m thick, consisting of alternating greywackes, and argillites followed by a second, thick, greywacke sequence varying in thickness from 20 m to 60 m.
The structure of the Project area is dominated by the Upper Seal Harbour Anticline. The anticline folds all levels of stratigraphy observed in core and underground to form an upright, tight anticline that plunges 20° eastward. The enveloping surface to bedding also dips moderately eastward at 20°. Younging is upward, orthogonal to the hinge, and limbs of the fold. An axial planar cleavage is well developed at all levels of stratigraphy but pervasive within the hinge of the fold. The intersection of the axial planar cleavage forms an intersection lineation commonly observed on bedding surfaces that plunge parallel to the fold axis. All bedding and first-generation structures are refolded by open reclined folds that modify the axial plane and limbs of the Upper Seal Harbour Anticline. The axial plane of second generation folds dips shallowly, and an axial planar the core and within underground workings.
Turbiditic rocks in the hinge zone of the Upper Seal Harbour Anticline have been variably altered with carbonate, sericite, sulphide, tourmaline, and chlorite assemblages that post-date growth of regional metamorphic mineral assemblages. The nature of alteration varies as a function of lithology and proximity to mineralization. Greywacke/sandstone units have varying amounts of biotite and muscovite that have likely detrital, metamorphic, and alteration origins. The greywacke and quartz-rich units generally exhibit weaker alteration than the finer argillite /mudstone units but when altered the greywacke/quartz-rich units exhibit bleaching that consists of both albite and sericite alteration. These units also exhibit irregular quartz alteration proximal to cleavage fractures in the rock; these zones also arsenopyrite in some instances.
Gold and sulphide mineralization is associated with both wall rock and veins. Argillites contain diagenetic pyrite (locally framboidal), pyrrhotite, and arsenopyrite. There are several generations of veins with the majority of gold associated with vein generations later generations where gold occurs both in veins and wall rock, with the majority of coarse gold in veins associated with second generation arsenopyrite, galena, and to a lesser extent chalcopyrite and sphalerite. Microscopically, gold occurs as inclusions in arsenopyrite, often spatially proximal to galena inclusions.
Deposit Type
The Deposit is a turbidite-hosted orogenic gold deposit hosted within a sequence of alternating argillites and greywacke metamorphosed to greenschist facies. These deposit types are typically characterized by the formation of gold bearing quartz veins within the argillite units, commonly referred to as mineralized belts, that are interbedded with greywacke units. There are currently 68 stacked mineralized Belts ranging in thickness from 1 m to 20 m in the Deposit. The metasedimentary units on the Property are folded into the tight, gently east-plunging Upper Seal Harbour Anticline and gold mineralization has typically been deposited at various positions and times during the fold formation process. Veins, which form during deformation, occur in three major geometries commonly referred to as reefs: saddle reefs, leg reefs, and spur reefs. Saddle reefs occur about the apex of the fold and are the dominant vein types within some deposits. Leg reefs extend down the limbs of the fold, beyond the saddle reef, and are generally parallel with the metasedimentary layers. These are also commonly termed BP veins in the Nova Scotia goldfields. Spur reefs are veins that cross between layers and may be in the apex of the fold or on its limbs. This style of vein is in part captured under the term "angular" in the Nova Scotia goldfields.
The Deposit contains all three types of reefs outlined above but is also characterized by mineralization within the argillite forming the Belts. Because the Deposit contains saddle, leg, and spur reefs, and often has gold mineralization within the argillite hosting the veins, it has the potential to contain significantly more gold resources than deposits of a similar style that contain gold only within the quartz veins (reefs) themselves. The trace of the Upper Seal Harbour Anticline transects the Property and is found near the Dolliver Mountain prospect 2 km to the west of the Deposit, demonstrating that the structure which hosts gold continues for several kilometres.
Mineral Resource Estimate
The Goldboro Mineral Resources were classified using the 2014 CIM Definition Standards and the 2019 CIM Best Practice Guidelines and have an effective date of February 7, 2021. The Mineral Resource Estimate is based on validated results of 635 surface and underground drill holes, for a total of 113,132.9 m of diamond drilling completed between 1984 and February 7, 2021, as well as 1,230 chip samples comprised of 822.7 m from the 2018 to 2019 underground bulk sampling campaign. The Mineral Resource Estimate includes 45,408.7 m of drilling conducted by the Company, including 17,941.7 m of diamond drilling in 121 drill holes since the Previous Mineral Resource Estimate of August 21, 2019. The Goldboro technical report containing an updated Mineral Resource Estimate is entitled "NI 43-101 Technical Report and Mineral Resource Estimate, Goldboro Gold Project, Eastern Goldfields District, Nova Scotia" and has an effective date of February 7, 2021.
Resource Type

Gold Cut-off (g/t)

Category

Tonnes

('000)

Gold Grade

(g/t)

Gold Troy Ounces

Open Pit

0.44

Measured

6,137

2.73

538,500

Indicated

5,743

2.99

551,300

Measured + Indicated

11,880

2.860

1,089,900

Inferred

1,580

1.75

89,000

Underground

2.60

Measured

1,384

7.36

327,700

Indicated

2,772

5.93

528,600

Measured + Indicated

4,156

6.41

856,200

Inferred

3,726

5.92

709,100

Combined Open Pit and Underground*

0.44

and

2.60

Measured

7,521

3.58

866,200

Indicated

8,515

3.95

1,079,900

Measured + Indicated

16,036

3.78

1,946,100

Inferred

5,306

4.68

798,100
* Combined Open Pit and Underground Mineral Resources; The Open Pit Mineral Resource is based on a 0.44 g/t gold cut-off grade (CoG), and the Underground Mineral Resource is based on 2.60 g/t gold CoG.
Mineral Resource Estimate Notes
Mineral Resources were prepared in accordance with NI 43-101 and the CIM Definition Standards for Mineral Resources and Mineral Reserves (2014) and the CIM Estimation of Mineral Resources and Mineral Reserves Best Practice Guidelines (2019). Mineral Resources that are not Mineral Reserves do not have demonstrated economic viability. This estimate of Mineral Resources may be materially affected by environmental, permitting, legal, title, taxation, sociopolitical, marketing, or other relevant issues.
Open pit Mineral Resources are reported at a CoG of 0.44 g/t gold that is based on a gold price of CAD$2,000/oz (approximately US$1,550/oz) and a gold processing recovery factor of 96%.
Underground Mineral Resource is reported at a CoG of 2.60 g/t gold that is based on a gold price of CAD$2,000/oz (approximately US$1,550/oz) and a gold processing recovery factor of 97%.
Assays were variably capped on a wireframe-by-wireframe basis.
SG was applied using weighted averages to each individual wireframe.
Mineral Resource effective date February 7, 2021.
All figures are rounded to reflect the relative accuracy of the estimates and totals may not add correctly.
Excludes unclassified mineralization located within mined out areas.
Reported from within a mineralization envelope accounting for mineral continuity.